May 10: I cannot believe it. NEITHER of my S12 teams made the semis. That is pathetic. Hurricanes, well that was no surprise. But come on. What about the champion Blues? I don't know... And what's this I was hearing about Carlos? I heard Canty fans ranting over something he did at the Blues-Crusaders game. Best I could make out was this: Carlos scores a try, while the Canterbury fans all boo him. He gets up and makes a fist at the crowd and hits it against his arm. Something like that??? Well come on! That's nothing! I happen to have a photo of Crusader Andrew Mehrtens flying the bird at a bunch of South African fans after he scored some points once. In fact I think it's on one of the pages here. (Try Great Rugby Pics.) Get over it.
Damn it Blues!!!
April 22: Carlos Spencer is to have a series of neurological tests after a serious head-spinning tackle last weekend against the Stormers. (Not to mention we didn't even manage to win the bloody game) After a broken jaw earlier in the S12, Carlos's luck seems to be dwindling. On the bright side (if you can say that in this situation, I mean Carlos IS injured!) Teasea Lavea will NOT be replacing Carlos at first five eighths; (flyhalf) instead Luke McAlister will wear the number 10 jersey. Yahooooooo!! What can I say, I really do hate Lavea for some reason.
My view on the Stormers game -- Idiot Lavea, who replaced someone else, not Carlos, dropped an easy pass last game, although so did Doug Howlett. But Doug made up for it -- he scored minutes afterwards, and Doug is just plain hot. Lavea.....ehhhh...And he just pranced about the field after making that mistake. The Blues started off decently, but their performance dropped along with key players, as Joe Rokocoko was replaced, Carlos injured, and goal-kicking duties given to Ben Atiga. The Blues have lost key players, no doubt, but they shouldn't be playing THAT badly. If, as usual, the Hurricanes are very soon knocked from the S12 competition, I will have no one to support because the Blues sure as Hell aren't going anywhere at this rate! Come on! I don't want to see the Crusaders win the S12 title! Or worse...an Aussie or South African team!
April 12: What's happened to the champions Blues of last season?! No doubt about it though, they've had their fair share of bad luck - injury after injury! Carlos Spencer, Keven Mealamu, Steve Devine, Rupeni Caucaunibuca, Joe Rokocoko, Daniel Braid - some of their very best players! Rupeni has already been ruled out of rugby for the next SIX MONTHS, and Steve Devine may not finish the S12 due to a recent injury.
Talk about a stroke of bad luck...their whole game suffered trying to cover for missing players. While Joe and Carlos were gone, they stuffed up the backline big-time. The kicker, Teasa Lavea, was awful - he kicked every other time he got the ball, not to mention the opposition manged to grab most of those kicks since he couldn't seem to find touch! And as for the wingers, centres and fullbacks - I would have Rupeni and Doug Howlett on the wings, and then had Mils Muliaina at fullback and Orene Ai'i at centre. That's much more sensible than the combination they had - it was ages ago, so I don't remember it but I do remember thinking "What the hell was the coach thinking when he set this line up?!"
Is it just the injuries? What's up with the Blues this year? They're not even in the top 5 teams; they're currently at #8!
Blues Squad 2004
John Afoa
Orene Ai'i -- played well in the NPC last season, will no doubt stand out in the S12 as well.
Ben Atiga -- replacement All Black when Ben Blair messed up his neck in the RWC.
Daniel Braid -- One of the additional 4 All Blacks called up for the World Cup. Bit pretty if you ask me...
Rupeni Caucaunibuca - haven't seen him play a whole lot but have been advised he is one to watch.
Justin Collins
Steve Devine -- Again, another All Black. Didn't get as much playing time as he constantly had competition at scrumhalf/halfback from Canterbury's Justin Marshall.
Greg Feek
Rico Gear
David Gibson
Doug Howlett -- Dougie is amazing, and teamed with Joe Rokocoko they're almost unstoppable on the wings. And he has cool hair too hehe...cute. All Black of 2003 as well.
Jerome Kaino
Teasa Lavea -- I hate his playing style. I don't think he even knows what a pass is! All he ever seems to do is kick the bloody ball!
Angus MacDonald
Keven Mealamu -- Another All Black. Wow, lots of them were Auckland boys weren't they. This hooker scored a cool try against the 'Boks in the semis when he threw off several Springboks and slid across the line as more defenders tackled him.
Kees Meeuws -- ANOTHER ALL BLACK! He's got the world record for tries scored by a prop, and he can bench over 200 kgs I think. Got some cool tattoos as well...
Brad Mika
Malili Muliaina -- Was one of the several fullbacks included in the All Blacks last season. Though Cullen is always my fave, Mils did a great job in this position. In the Tri-Nations he was hit with two nasty high tackles, right after the other, when he jumped to catch a high ball against the Wallabies.
Greg Rawlinson
Joe Rokocoko -- The Try Machine!!! The youngest member of the All Blacks last year, and one of our top try scorers, he is amazing to watch when he sprints with the ball. Keep an eye out for him!
Xavier Rush -- Captain of the Auckland A's.
Carlos Spencer -- His goalkicking could use some improvement in consistency, but aside from that Carlos is bloody brilliant! Loved the between-the-legs-backwards-pass to Joe who flew across the line to score against the 'Boks in the semis. Cool tattoos, and sexy as well, haha!
Brent Thompson
Sam Tuitupou
Ali Williams -- one of my fave players. He is a huge bloke, standing at 6"7, I believe! Although he suffered a minor stress fracture in his foot, this loud-mouthed lock still went on to the World Cup and scored a try in one of the pool matches when he caught a kick from Spencer and simply fell across the try line.
Bryce Williams
Derryn Witcombe
Tony Woodcock
Coach: Peter Sloane
Assistant Coach: Bruce Robertson
Manager
: Ant Strachan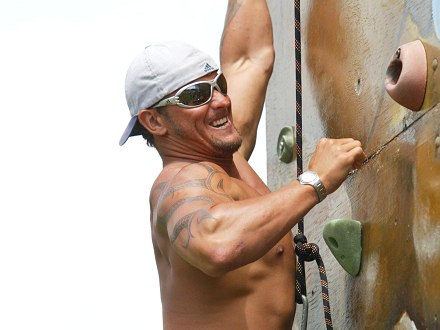 Carlos Spencer clmbs a rockwall at a Blues training camp.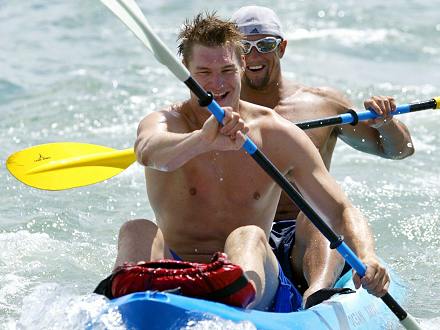 Ali Williams and Carlos Spencer go kayaking at a Blues training camp.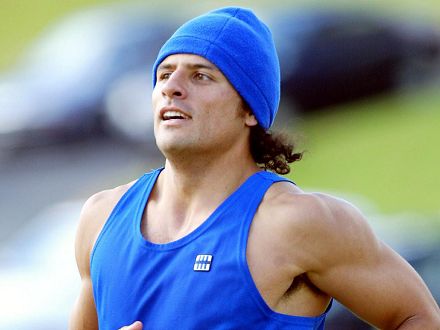 Doug Howlett jogs through a Blues/Warriros training camp.
Daniel Braid avoids a tackle at the combined Blues/Warriors training camp.