Here are some of my views on the Rugby World Cup and the teams competing for the greatest prize in rugby: the Ellis Cup.
November 23: well, the RWC finals were played yesterday, England versus Australia, not England vs. NZ like I'd thought all along. Well, anyway, for the first time ever the Ellis Cup has left the Southern Hemisphere. Yeah, that's right, those bloody Poms won. Here's how it went:
By the time the full 80 minutes were up, both teams had scored only one try each, and neither had converted. The score was 14-all thanks to penalties and/or dropped goals. The iRB's solution to a tie at full-time is to play two ten-minute halves and if the score is still tied, it goes into a dropkicking competition. (I think) So, back on the field for an extra twenty minutes.
For one second it seems as if Australia will score, oh, no I guess not, because England just got the ball and somehow got it down to Australia's 22. Yeah, England will score next - nope, Aus has got the ball now.
Jonny Wilkinson attempts a drop goal - ha ha Jonny, the ball bounced off one of the Aussies. Sorry mate.
Then somehow England is awarded a penalty and they get it, bringing the score to 17 - 14. Elton Flatley keeps the Wallabies in the game, kicking a penalty for Australia just minutes later. The score is 17-all, with about a minute left in the game, maybe a little more. Three guesses as to who saves the day for England?
Hmm...I have no idea! Oh, wait, hang on...I know! I bet it was Jonny Wilkinson! England wins a lineout, and from thirty meters out, Jonny Wilkinson gets a pass and attempts another drop goal, this time with his right foot. (he's a left footed kicker) And of course, it goes through, and Jonny Wilkinson has won the Cup for England, winning against Aus 20 - 17.
You know, I firmly believe that rugby is a team sport. Yes, teams have their notable players, because not everyone is as good as the next person, but you need an entire team of good players who work together to win. That's what I believe.
With one exception.
That would be the English team.
Think about it - how many tries did they score in the RWC? Not too many, I reckon. How many points did they get from dropped goals and penalties? I can't even imagine it! They kicked their way to victory! Against France, I don't think there was a single bloody try, nor against Wales. I think there was one against Scotland but no matter, they kicked all the other points.
Admittedly, though they played not so great through the RWC (with the exception of their kicker) England definitely deserved to win more than Australia. England was the only team to beat us the rest of the season. Australia played like crap all through the Tri-Nations. They didn't deserve to win; if they had done so it would've been sheer dumb luck.
But anyway, good on you England.
November 20: I just heard from a well-informed family member a possible reason about the semi-final screw up.
Well, the reason (apparently) that we didn't play that way last week was because there was a huge bust up in the AB camp just before the quarter-final. Doc Mayhew passed Tana as fit to play and Robbie Deans wouldn't even put him on the bench. The whole back squad got upset apparently and there were huge arguments. Then when the semi rolled round and they still wouldn't name Tana in the team, things got heated again and we lost our focus.
I've got no idea what is going on with that, it came as a complete surprise but now that I think about it, it makes sense.
The All Blacks placed 3rd in the RWC when we defeated the French today, 40 - 13. We played well, but if only we'd played like that LAST weekend! The look on the team's faces (especially Carlos) was enough explanation as to how they felt before the game as they did the Haka. Haven't watched the entire match yet, but I'll get around to it sometime this weekend.
Also, the Aussies face off against the Pommies in the finals on Saturday.
November 16: On November 22, Australia will battle it out against England in the finals of th RWC 2003. I'm upset it ended like this, with NZ losing to Aus (22 - 10) in the semi-finals. But what makes me feel even worse is how people reacted.
Sure, we were all gutted. The Wallabies, who played like crap all season, were going to be whipped by the Boys in Black. That's what we all expected. But that sure as heck ain't what happened. It's fine to be disappointed, but the comments I read were utterly outrageous. Everyone called the All Blacks "chokers" after the match. "We should line the All Blacks up in a row and shoot them all and then cut Mitchell into little pieces" -- what kind of person can say that? It is totally unfair to a team of 30 brilliant rugby players and their coach. DO NOT BLAME THEM.
We tried, ok? Maybe our coaching style isn't really designed for the World Cup. You know what, Mitchell is a good coach, despite all the times I've badmouthed him for not putting Cully in the squad. He led the All Blacks to victory all season, only suffering one loss to England in the very first match of the season, when it was understandable since we were trying to see which combinations worked and those that didn't. We won the Tri-Nations and the Bledisloe -- the Aussies have held that for five years. But when it comes to crunch time, the big one, the one game or even tournament that counted, we just couldn't do it.
And why? Because we are bad? You're thick as pig's shit if you believe that. We have good and bad days, obviously; who doesn't? I think part of the problem is the pressure. New Zealand is extremely passionate about rugby. If you know me you'd understand what I mean. It's one thing to send the team off wishing them good luck, but quite another to say "don't let us down". It's been 16 years since NZ won, we are getting desperate. We all thought this was THE team to win it, and it was written everywhere. How do you handle that kind of pressure?
It must have been easy on the Aussies -- their own country expected nothing from them. They expected so little and then they rose above that. The Kiwis expected too much and we fell.
I would've thought by now we'd have learned from our mistakes. Even doing the haka I could see and hear the tension and feel the pressure on them. The boys performed the haka about 10x as fast and although I noticed it I didn't think too much of it.
But that's how life goes, I guess. Get over it.
November 15: Only a Kiwi would understand how I felt watching tonight's game. It ain't over till the fat lady sings, was what I keep repeating, as the clock ticked down. And in the final seconds as the whistle blew, my heart fell.
I admit it: I cried. I screamed, I swore, I nearly threw things. (Mum had to take the remote control away before I lost my temper.)
It has been 16 years since we last won the World Cup. And now we've got a one-way ticket back to New Zealand. I can only imagine what the headlines and the jokes back home will be. We won in 1987. Australia won in 1991, then South Africa in 1995. Then Australia won again in 1999 after the All Blacks suffered a shocking semi-final loss to the French.
And now history repeats itself, four years later. Out in the semis to the Aussies, of all teams. The team who played like you-know-what all season. They're nothing special. We were the better team, and we have been ALL season. I thought this was the team, the one who would make New Zealand proud by bringing home the Ellis Cup. And then we lost the game that really counted. We didn't even make it to the finals. If we'd lost against England or France in the finals, though I'd be gutted, I could at least say we were good enough to get there. But we didn't.
I could do exactly what the Aussies expect a Kiwi to do, and blame it on any number of things. The ENGLISH ref, Chris White, who awarded too many penalties and denied Mils of a try, the Wallaby centre Elton Flatley, who kicked the Wallabies' way to victory, John Mitchell, the All Blacks coach, or even our own Brad Thorn, the Aussie rugby league player with no rein on his temper and gave the Aussies a penalty, the fact Tana Umaga wasn't playing though he was fit, or I could even try to say 'we just had a bad game'.
But I'm not going to.
I do believe all those things, however, that wasn't why we lost. I don't know why. I have no logical reason. Partly because there is no such thing as logic in this whole thing. Maybe it was just a fluke, sheer dumb luck. But I can still hold my head high because I know my team is the better of the two. One game doesn't mean much. When the pressure is on, the Wallabies play better. However, that doesn't say much for the rest of the time. What about all the other games this season? Compare the Aussies and the Kiwis for a second - who has had the better performance? Don't be biased either.
"We got beaten by a better team. We are not chokers, mate. We put everything into this campaign and the effort was huge. These things happen. We'll have to be strong and get over it.'' John Mitchell said after the match.
Reuben Thorne added: "Australia defended with their lives. They put us under a lot of pressure and we lost our composure. Thanks to everyone who supported us. We're sorry."
Carlos Spencer was grim. "They shut us down and didn't let us play our game. All credit to Australia. It was frustrating for me, but it's hard to play without the ball.''
Even Eddie Jones, Wallabies coach, had praise for the All Blacks. "Tonight was our night. We played well, but if you look at the scoreboard between Australia and New Zealand this year it is 2-1 to them. We were good enough to win tonight but don't lose sight of the fact of the brilliant football New Zealand has played this year." During the press converence he admitted to feeling empathy for John Mitchell, because "I think he's coached the side absolutely superbly" Jones said.
New Zealand has the better team. But we lost. There's only one thing left for us to do.
That's to hold our heads high, and play hard in our last World Cup match against the loser of the England-France match, which will determine the third and fourth teams in the Cup.
Oh, and by the way Wallabies: good on ya. You played better than us last night. Congratulations and good luck on November 22.
Good job All Blacks. Despite the loss, you've made New Zealand proud. We deserved to win that game. We were better. But that's not how the winds of fates blew last night.
November 8: YAHOO! SOUTH AFRICA OUT, NEW ZEALAND IN! In a stunning quarter final on Saturday night, New Zealand beat the Springboks 29 - 9, making this NZ's first RWC win over the Springboks for the last 3 World Cups. After last week's disappointing performance over the Welsh side, I was biting my fingernails already as Carlos kicked off. Within a few minutes I was almost 100% sure we would win. The AB's defense had pulled up amazingly, and the Springboks played tough. We've always been dominated by their enormous forward pack; today we matched them in that. Man of the Match goes to the amazing CARLOS SPENCER, who set up two of our three brilliant tries.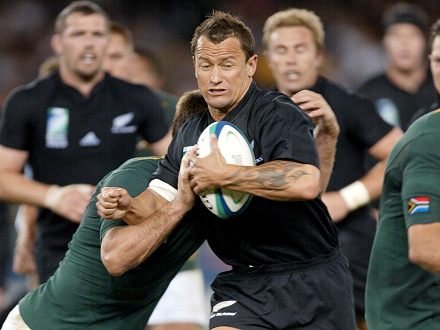 Carlos played bloody brilliantly all night.
In the 12th minute or so, Carlos faked a pass, sidestepped a 'Bok, and sprinted up the field, spinning a pass out to Leon MacDonald just as the 'Bok defense crunched down on him. Leon took the ball down to the try line, scoring and then converting to make the score 10 - 3.
Then in the 72nd minute, down in the Boks' 22, Justin Marshall pulled the ball out from a ruck and spun it out to Los, who easily caught it and without a second's hesitation passed it through his legs to Joe Rokocoko, who caught it and sailed across the touchline for another amazing try.
The third try was scored by Keven Mealamu, one of our 3 hookers, after he threw off 2 Bok defenders and then slid across the line as 2 more descended upon him.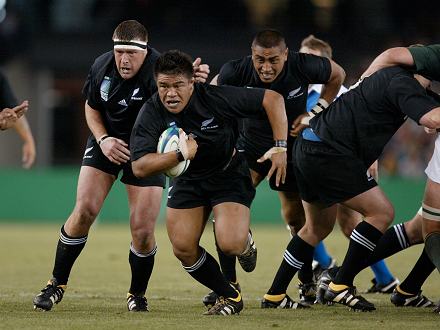 Keven bursts through the Bok defense to score one of NZ's 3 tries
We didn't allow S.A. to score any tries - their 9 points came from penalties kicked by Derick Hougaard, their first five eighths, who was later replaced by Louis Koen.
After the game it was said by the Springboks that they are backing the AB's all the way, and believe they are one of the best 2 teams in the world (the other being England) and could go all the way to win the finals on November 22.
Next week we go into the semi finals against current World Champions Australia, who won their place after a 33 - 16 win over Scotland in last night's other quarter final game. It was a scrappy win over the Scots, featuring many dropped balls and missed tackles and passes.
England faces off against Wales to determine the last team to go on to the semis, after France destroyed Ireland later today.
November 6: Well, the pool matches of the RWC have been played, and crunch-time begins on Saturday with the quarter finals.
The All Blacks squeaked past Wales, (53 - 37) even letting the second-string Welsh side take the lead before we were saved by the great wing Doug Howlett. Jerry Collins suffered minor damage to his ribs but is feeling fit and he's been named for the New Zealand - South Africa quarter final clash on Saturday in Sydney. Tana Umaga trained with the team on Wednesday but is not fully fit for this game, however he is expected to play in the next match.
Ben Blair's neck injury has pulled the young fullback from the RWC this time, and he has been replaced with Auckland fullback Ben Atiga. As if that isn't another blow to Christian Cullen...(see the page about Cully for more of my rantings!)
Australia squeezed by Ireland in their last pool match, winning by only one point. (17 - 16) England won every game in their pool, and is set to battle a full-strength Welsh side the weekend for the quarter finals.
France was also included in the quarter finals, as were two other teams. (which countries they represent I'm unsure of and too lazy to properly check)
On other rugby news, Christian Cullen played his last game in New Zealand rugby when the Wellington Lions faced off against the Auckland A's in the 2003 NPC finals. Sadly, Auckland retained the title and their trophy cabinet is no doubt looking quite impressive these days. (NPC 2002, S12 2003, NPC 2003, Ranfurly Shield 2003)
And previously in the World Cup...
All right, it's October 2003 and we're in the middle of RWC pool matches. Here's the news:
The New Zealand All Blacks defeated Italy on Saturday, the final score 70 - 7, NZ scoring 11 tries. The game also had a few negative results, the most tragic and troubling being Tana Umaga's serious knee injury.
Reports have said that it is looking like Tana's World Cup may be over; however officials are still waiting for complete knowledge of his injury. Potentially Tana has a rupture of the cruciate ligaments. If it is a rupture a decision will need to be made as to whether an operation will be needed," said All Blacks assistant coach Robbie Deans. Joe Rokocoko also suffered a "minor" hamstring tear, although it is highly unlikely he will play in Friday's test against Canada.
Carlos Spencer is on the injured list too, with a bruised knee after the collision with Tana that may have cost him his World Cup.
On the bright side, Ali Williams has been cleared to play and is still with the squad, after doubts he would play when an injury in his foot looked to end his World Cup chances fast.
Meanwhile, the Wallabies opened the RWC with a 24 - 8 vistory over Argentina. To anyone watching the match, it was obvious that Argentina was ill-diciplined, however with better passing and handling Australia could have racked up a few more points at least.
Last weekend the ABs played Canada, winning 68 - 6, NZ scoring 10 tries. Canada's only points came from 2 penalties. Chris Jack was given a yellow card for a late tackle and Canada was penazlized for a late tackle to Carlos Spencer.
Byron Kelleher joins the injury list with a hamstring tear, while Carlos, Tana, Joe, and Ali all progressing with thier injuries.
Ben Blair has been ruled out of the RWC, after sustaining a serious neck injury during a training session. Auckland's Ben Atiga has been called in to replace the young fullback. (What about Christian Cullen?!)
Other rugby news: Wellington makes the NPC finals and will host Auckland on Saturday.