May 10: Ahhhh.....all right. It's over. (Nearly.) Well, for Hurricane fans it's been over for a long time, cos' we've been stuffed for ages. Since we lost that game a few weeks ago we've been stuffed. And now we're more stuffed as both Jerry Collins and Chris Masoe are in trouble with the NZRU for high tackles. On the bright side at least the 'Canes whipped some Canterbury arse as a finish to their very sorry S12 season. And as for the semis...GO THE CHIEFS!
April 22: Another disappointment to Canes fans last week. We could have won! But as bloody usual we lost the frickin' game at the end!!! As a Kiwi this year's S12 has SUCKED BIG TIME. Yeah, Crusaders are goin' alright as are the Chiefs, but I hate the Crusaders and I don't know about the Chiefs or the Highlanders. Anyway, I did see that Crusaders-Highlanders game, and I gotta say I couldn't watch for more than 15 minutes or so! It was terrible! Sloppy playing, unbelievable from the Crusaders especially. Hurricanes had better get their shit together for their next few games, starting with the Highlanders this weekend.
April 12: Well as usual, the Hurricanes have had another up-down season so far. We win one week, lose the next, tie another, etc. We need more consistency! But the 'Canes are known for being rather inconsistant, and being more down than up. All I can do is hope we can squeeze our way into the knock-out rounds and play a good game of rugby.
Hurricanes Squad 2004
Luke Andrews
Sereli Bobo
Jerry Collins -- I'd hate to be tackled by this bloke!
Tim Fairbrother
Riki Flutey
Hosea Gear
Ben Herring
David Holwell -- captain of the Lions last season, missed a few games with a broken jaw. Good goal kicker.
Andrew Hore
Ross Kennedy
Roy Kinikinilau
Chris Masoe
Joe McDonnell
Ma'a Nonu -- what a cutie, that one...and bloody brilliant on the field.
Kristian Ormsby
Shannon Paku -- played for Auckland in the NPC, and very well too.
Tony Penn
Conrad Smith
Rodney So'oialo -- cool guy! Not a bad kicker too, I hear.
Jason Spice -- has a bit of temper, haha watch the first NPC game against Auckland and keep an eye for him to see what I mean.
Neemia Tialata
Paul Tito -- saw him play for the NZ Maori, hard to miss on the field due to his bright orange hair.
Tane Tuipulotu
Tana Umaga -- all around good guy, vice captain of the All Blacks and captain of the 'Canes this season. Ripped a ligament in his knee during the first game of the World Cup and didn't play the rest.
Thomas Waldrom
Brent Ward
Joe Ward
Piri Weepu
Coach: Colin Cooper
Assistant Coach
: Murray Roulston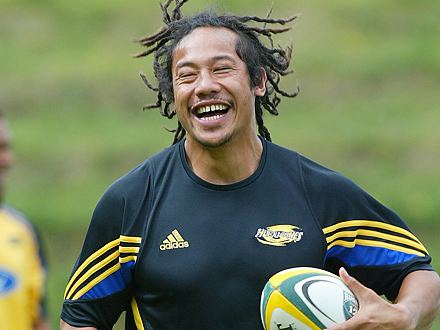 Tana Umaga has a laugh at a Hurricanes training session.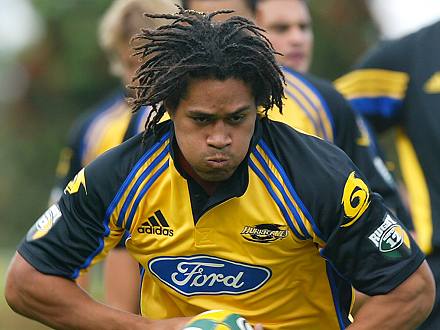 Rodney So'oialo tears up the Hurricanes training camp.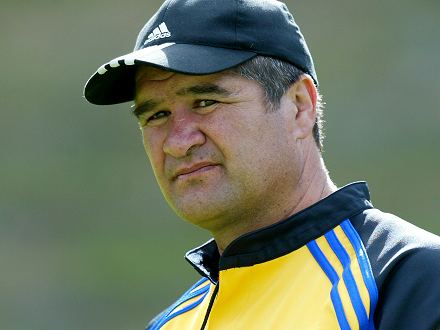 Coach Colin Cooper keeps an eye on the Wellington boys.